Southwest STL Terminal – St. Louis Lambert Airport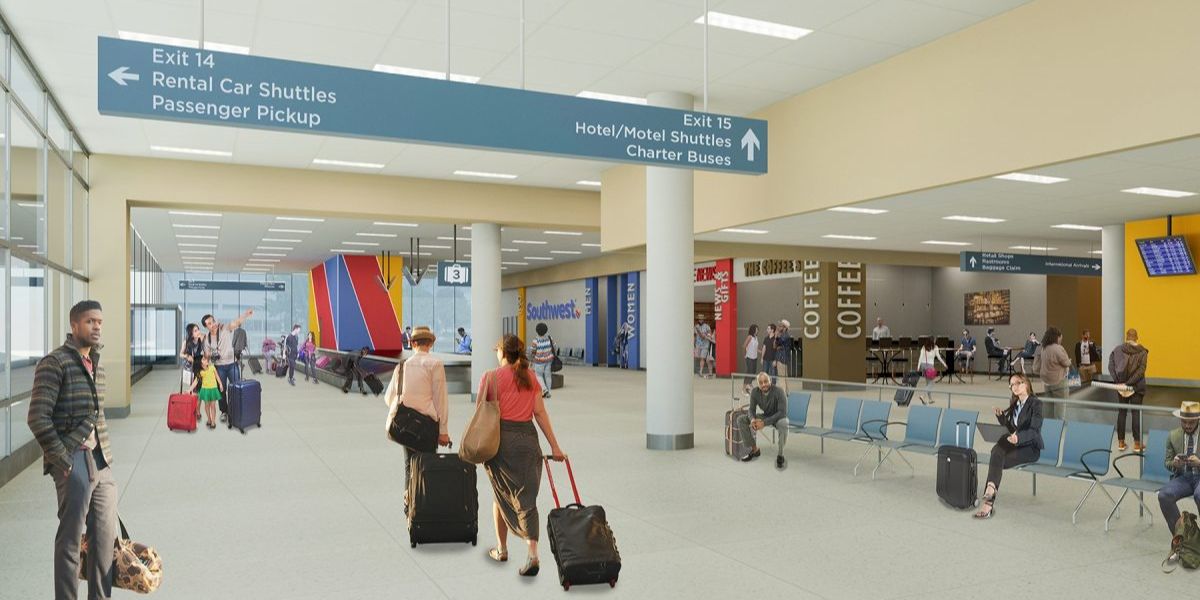 Southwest Airlines uses Terminal 2 at St. Louis Lambert International Airport. It is an essential hub for Southwest Airlines flight operations. Passengers can fly to national and international destinations from the Southwest STL Terminal. The terminal is equipped with convenient options and affordable facilities for its customers ensuring easy travel. Here, we have discussed services that are accessible to passengers at the STL Southwest Terminal. The airport operates flights to 119 cities with weekly flights and daily nonstop flights throughout the week to around 40 cities.
The airline flies to destinations like Atlanta, Austin, Baltimore, Boston, Cancún, Charlotte, Chicago–Midway, Cleveland, Columbus–Glenn, Dallas–Love, Denver, Des Moines, Detroit, Fort Lauderdale, Fort Myers, Houston–Hobby, Jacksonville (FL), Kansas City, Las Vegas, Little Rock, Long Beach, Los Angeles, etc from Southwest STL Terminal 2. Passengers are instructed to locate the terminal beforehand for a smooth travel experience. Simply, go through this page to get an overview of Southwest Airlines STL Terminal 2.
St. Louis Lambert International Airport (STL Terminal Updates)
The airport has a total of five concourses and Southwest Airlines STL Terminal has one i.e. Concourse E. The terminal is located on the upper level which is near Door 14. The following table displays basic information about the airport. Passengers can also reach out to the Southwest Airlines St Louis Office in Missouri for ticketing procedures.

Airport Name
Lambert-St. Louis International Airport
Airport Code
STL
City
St. Louis
State
Missouri
Airport Address
10701 Lambert International Blvd, St. Louis, MO 63145, United States
Southwest Terminal
Terminal 2
Terminal Operation Hours
Sun to Wed – 7 a.m. – 11 p.m.
Mon. to Tues., Thurs to Fri – 11 a.m. – 7 p.m
Sat. – 10 a.m. – 6 p.m
Terminal Contact Number
(314) 890-1311
WMO Code
72434
Airport Contact Number
+1 314-890-1333
STL Southwest Terminal Inter Transportation
This section talks about the STL Southwest Terminal Inter Transportation available for passengers to catch connection flights. The following transportation system helps passengers move from one terminal to Southwest Terminal STL and between different concourses.
Runways
St. Louis Airport has four runways, three of which are parallel to each other and one crosswind. The latter is the shortest among the four runways. 11/29 is the newest runway which was a part of the airport expansion program in 2006. The tabulated information below describes the length and width of these runways:
| | | |
| --- | --- | --- |
| Runway | Length | Width |
| 12R/30L | 11,020 feet (3,360 m) | 200 feet (61 m) |
| 12L/30R | 9,013 feet (2,747 m) | 150 feet (46 m) |
| 11/29 | 9,000 feet (2,700 m) | 150 feet (46 m) |
| 6/24 | 7,603 feet (2,317 m) | 150 feet (46 m) |
Ground Transportation
The airport has St. Louis's greatest metropolitan mass transit system. The Red Line MetroLink
The airport is served by MetroLink, the light rail transportation system serving Greater St. Louis. The Red Line has stations at Terminal 1 and Terminal 2.[100] The Metro lines serve the city of St. Louis, along with cities in St. Louis County, and Illinois suburbs in St. Clair County.
STL Southwest Terminal Facilities & Services
St. Louis Lamber International Airport focused on serving the requirements of travelers. The airport hope to enhance customer experience with STL Southwest Terminal Facilities & Services. We have listed all the amenities and services offered within the airport.
Free Voice Paging and Visual Assistance
Banking and Foreign Currency Exchange
Civil Rights, Accessibility and ADA
Children's Play Port
Hotel/Motel
Lactation Suites
Lost & Found
Tourism & Visitor Information
Service Animal Relief Areas (SARA)
WiFi
Lounges
Dinning and Drinks
Charging Stations
Baby Facilities
Duty Free Shops
ATM
Luggage Storage
FAQs on Southwest STL Terminal
What terminal is Southwest at STL?
Southwest uses Terminal 2 at STL for the arrival and departure of its scheduled flights. 
Is Southwest Terminal 1 or 2 at STL?
Southwest Airlines is at Terminal 2 of St. Louis Lambert International Airport and operates flight to both national and international destinations. 
Does STL have WiFi?
Yes, the airport does have internet connectivity. Passengers can easily connect the WiFi and enjoy their free time. 
Are terminals 1 and 2 connected at STL?
Terminals are not connected at STL Airport. Passengers must take the free shuttle services in order to move from one terminal to another.
Does St Louis have Southwest Airlines?
Yes, Passengers can take Southwest flights from Terminal 2 at St. Louis Airport. 
Where is the Southwest Airlines departure terminal STL Airport?
All flights operated by Southwest Airlines departs from Terminal 2 at STL Airport.