Seattle Airport Security Wait Times – Save Time with Short Lines 
According to the latest tweet by Seattle Airport, its wait time at the security checkpoint is less than 15 minutes. The passengers do not need to spend the majority of their time clearing the security lines at the airport. It has managed to build a smooth and hassle free mechanism reducing the average time.
There are 5 security checkpoints at Seattle Tacoma Airport. All of these offer direct access to all the gates. In order to reduce and maintain the security wait times, there are additional features like general, premium, TSA Precheck, CLEAR and ADA friendly screening. 
If you have an upcoming scheduled flight from this airport, then you are worried about spending hours at the Seattle Tacoma Airport security wait times, then there is good news for you. The airline has detected ways to save your time allowing a much flexible experience. You can relax at the lounge, grab your favorite snacks, and shop for your loved ones. One thing is sure that the airline has you free from the security line in less than 15 minutes. The timings for each Seattle security checkpoints vary depending on the usual traffic and the additional features. Let's dig further to learn about the exact timings and facilities.
Types of Security Checkpoints at Seattle Tacoma Airport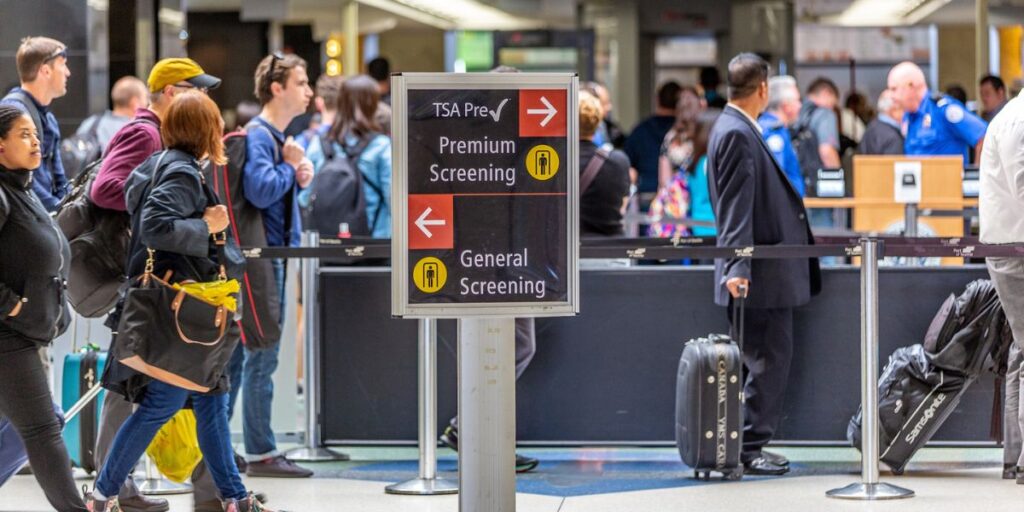 The SEA Spot saver is a unique feature by Seattle Airport security checkpoints that speeds up the screening process. It is accessible at checkpoint 2,3 and 5 and is generally available between 5 a.m. to 10 p.m. It is a free and no-membership service. Passengers can book screening appointments before or after reaching the airport. If it is available for your airline terminal, then the logo for the same will be visible at the counter and at the online interactive map.
Seattle Tacoma Airport suggests passengers to reach the port at least 2 hours before departure for domestic flights and 3 hours for international travel. Depending on the terminal and the security checkpoint with its extra features, the timings for SEATAC wait times will differ. Also the operating hours are different for each of the screeding types, check the following table for the exact timings.
Checkpoints
Screening Types or features
Operating Hours
Checkpoint 1
CLEAR and TSA PreCheck Screening
4 a.m. to 1 p.m.
Checkpoint 2
CLEAR, General and Premium Screening, and SEA Spot Saver
4 a.m. to 11 p.m.
SEA Spot Saver – 5 a.m. to 6 p.m.
Checkpoint 3
CLEAR, General Screening, SEA Spot Saver, and SEA Visitor Pass
General: 24 hours
CLEAR– 6 a.m. – 4 p.m.
SEA Spot Saver – 5 a.m. to 10 p.m.
SEA Visitor Pass- 5 a.m. to 10 p.m.
TSA PreCheck – 10 p.m. to 4 a.m.
Checkpoint 4
CLEAR, General, and TSA PreCheck Screening
4 a.m. to 10 p.m.
Checkpoint 5
CLEAR, General and Premium Screening, and SEA Spot Saver
4 a.m. to 8 p.m.
SEA Spot Saver -5 a.m. to 6 p.m.
Features and Benefits of the Types of Screenings
As previously mentioned, there are various screening types or features added with each of the Seattle Airport checkpoints. These have unique benefits but come with certain eligibility criteria. To understand the difference between the types of screenings at security check. Let's review the below described points.
TSA Precheck- It is one of the popular screening that is available for the United States airports. It requires interested candidates to apply for the same from the official website. After thorough screening and background checks via its two interviews, very few passengers who qualify the eligibility criteria are allowed the access of the TSA line where there is no need to remove additional accessories like belts, shoes and others. The children below 17 can accompany their parents or guardians in the line.
Many airlines have collaborated with TSA to offer a premium experience to its passengers. At Seattle airport, Alaska Airlines TSA is available as it has a huge number of flights from this port.
General
This is the basic checkpoint that has reached the reduced timeline of 15 minutes and less due to distribution of traffic on other features and screening types. Passengers who do not have any membership for the priority security checks can add SEA spot saver.
CLEAR
This screening process is offered by a private company that uses biometric and special lines for security checks. The Seattle security wait time reduces as it enables skipping the line with full collected data and tracking by its biometric data. It is based on membership which costs 189 Dollars. Additional 60 dollars are payable to add per member to the account. It will track the data and make sure that you clear the safety standards for a quick and less tiring screening.
Premium
Premium are short cut lines that are available at Seattle airport checkpoints 2 and 5. It is valid for business and first class passengers who are offered priority screening and boarding by the airlines and the airport. Cut short the line and move out of the screening within a few minutes without a long and tedious procedure involved.
ADA
For ADA, the passengers must connect with the TSA. It is no way to reduce the Seattle security wait times but it is assistance that is accessible on all checkpoints. It is supported and handled by the Transportation Security Administration. So, It advises the specially abled people or with any injuries must contact the staff at least 72 hours prior to the scheduled visit at the airport. Seattle Airport is very dedicated towards its guests and also helps to ensure the availability of this feature at all screening checkpoints.
The passengers must book the SEA spot saver if they are not part of any membership. Else, you can resort to the process to be part of the various screening types by filling the form and qualifying their respective safety standards for a Trusted Traveler category. Arrive at the airport within the defined timeline and finish the formalities after saving time on Seattle airport security line wait times.
Conclusion
Seattle airport security line wait times are very passenger friendly as it allows quick screening with less than 15 minutes of duration. While strict security checks are necessary for the safety of the people visiting the airport and boarding planes, it can be equally tiring and boring. That is why TSA-like reliable facilities were formed to offer reduced timings along with ensuring safety. Seattle Airport has achieved a milestone by introducing various new features at its checkpoints that have decreased the security wait times to 15 minutes or less.
Seattle Airport Security Wait Times (FAQs)
What is the average security wait time at Seattle Tacoma International Airport?
The average SEATAC wait times are less than 15  minutes which is a pretty good milestone. 
Is TSA available at Seattle Airport?
Seattle Airport has TSA precheck for airlines that have collaborated to offer their passengers a quick screening facility. 
What is Seattle SEA Spot saver?
SEA spot saver is one of the free features which is provided by Seattle International airport which allows passengers to book the screening appointment before reaching the airport or later.