Las Vegas Airport Security Wait Times – The Ultimate Guide 2023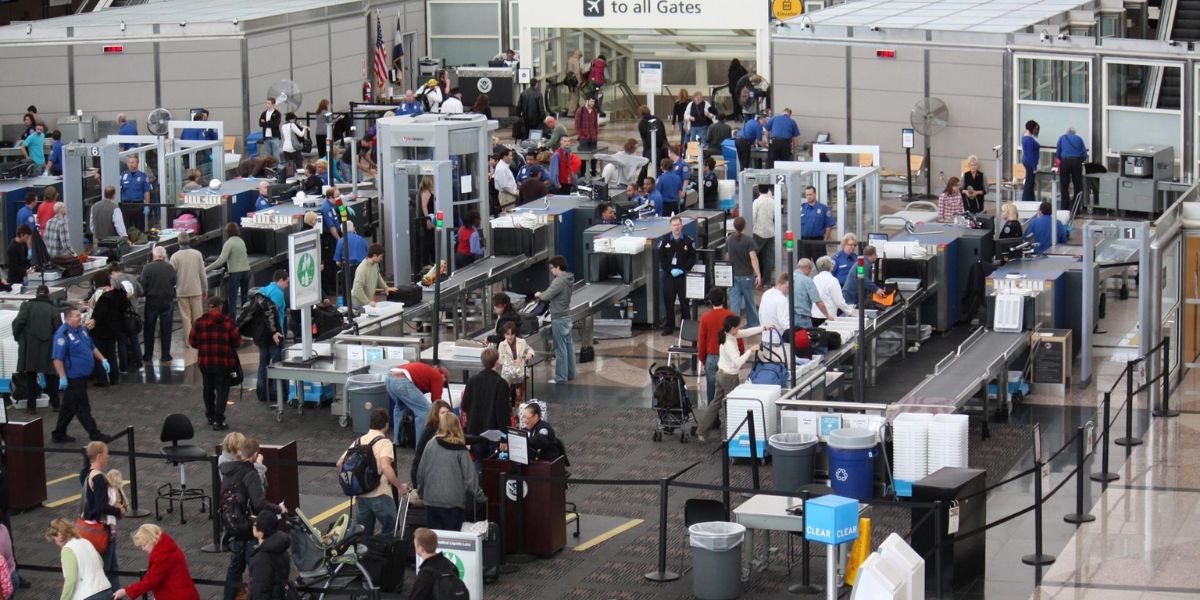 A remarkable aviation marvel, Harry Reid International Airport popularly known as Las Vegas Airport owned and operated by Clark Country, Nevada, snuggled in the enthusiastic embrace of the glamour of Las Vegas Strip. 
Acts as a vital channel for global connectivity captivating most of the cities in the world, welcomes millions of travellers across the globe.
Las Vegas airport achieved a historic milestone in 2019, when the airport accommodated an astounding 51.5 million visitors, solidifying its status as the busiest airport in the world.
It provides superior services to over 140 destinations on earth, ensuring every passenger's journey is seamless and secure. The airport promises minimized Las Vegas Airport Security Wait times and the travel expectation that surpasses your imagination. 
Helpful Guide for Passengers at Las Vegas Airport Security wait Time 
The airport handles millions of passengers at the airport, it has allotted special working hours to provide personalized services for passengers waiting at the security wait time queue.
Airport has allotted multiple working slots to offer services for tourists at Las Vegas airport security wait times at queue.
A TSA (Transportation Security Administration) officer at the airport is always available to guide the tourists at the security area, to get the flight schedule.  
General inquiry for the Passengers
General Information (702) 261-5211
Administration Information – (702) 261-5100
Flight Info (702) 261-4636
Parking Info (702) 261-5121
Facsimile (702) 597-9553
Lost & Found (702) 261-5134
Paging (702) 261-5211
TDD (702) 261-3111
The Current Security Wait Time at Las Vegas Airport
2 minutes and 18 seconds. 
(** Please note the security wait time changes frequently, you need to visit current status on https://airportparking.tips/tsa/las.php and https://www.harryreidairport.com/Security )
Standard Opening Hours of Security and Customs
| | |
| --- | --- |
| Checkpoints/ Terminal | Timing |
| Terminal 1: A/B Checkpoint | 3:30 a.m. to 1 a.m. |
| Terminal 1: C Annex Checkpoint | 3:05 a.m. to 9:30 p.m. |
| Terminal 1: C/D Checkpoint | Open 24 hours |
| Terminal 3 Checkpoint | 3:30 a.m. to 1:30 a.m. |
| Terminal 3 (Innovation Checkpoint) | 6 a.m. to 2 p.m. |
TSA pre-check schedule – LAS airport has assigned TSA pre-check services at each checkpoint but they may differ in timing to standard opening hour. 
TSA PreCheck Terminals
Timings
Terminal 1: A/B Checkpoint
3 a.m. to 12 a.m.
Terminal 1: C Annex Checkpoint
Monday and Tuesday: 3 a.m. to 7 p.m.

Wednesday to Sunday: 3 a.m. to 8 p.m.
Terminal 1: C/D Checkpoint
3 a.m. to 12 a.m.
Terminal 3 Checkpoint
3 a.m. to 12 a.m.
(Note: It is recommended by the TSA that passengers arrive two hours before scheduled domestic flights and three hours to International flights.) 
Las Vegas Airport Terminal Quick Guide 
The airport has two main terminal buildings, Terminal 1 and Terminal 3, both of the terminals have multiple gate locations.
Both terminal 1 and terminal 3 are not interconnected, and passengers are advised to inquire for the right terminal for hassle free journey and avoid unnecessary travel by shuttle bus to travel between terminals.
Main Domestic flights are operated from Terminal 1 gate number A,B,C and D. However, International and domestic flight operations are operated from gates D and E.
In case you miss the information at the airport and arrive at the wrong terminal you can take a shuttle that runs from level 0 every 20 to 30 minutes from both the terminal.
Checkpoints at Las Vegas Airport
You can access flight services from 4 different checkpoints along with entry and exit areas.
To complete the security wait time at las vegas airport and check in process easily you can reach out to the TSA officer in case you get stuck at the security check in process.
Check point A/B: It is situated between Terminals 1 and 3, permitting travellers to get to the A gate, B gate, and interface between the two terminals.
Check points C: Arranged inside Terminal 1, this designated spot serves travellers going through the C gate flight region.
Check point C/D: Found in Terminal 3, this spot obliges travellers leaving from gate C1 to C22, giving helpful details on security wait times at Las Vegas Airport.
Checkpoint D/E: Situated inside Terminal 3, this designated spot takes special care of voyagers withdrawing from entryways D1 to D59 and E entryways, considering proficient security checks for homegrown and global flights.
All the checkpoints are operated accordingly at Terminal 1 and Terminal 3. Some checkpoints fall using 1 terminal or some in terminal 3.
Use this information to access terminal gates and terminals
Green Terminal 1 to C gates / C gates to Terminal 1
Blue             D gates to Terminal 1 / Terminal 1 to D gates
Red              Terminal 3 to D gates / D gates to Terminal 3
Airline Operates from Terminal 1
Advanced Air
Allegiant Air
American Airline
Avelo
Delta Airline
Southwest Airline
Spirit Airline
Airlines operates from Terminal 3
| | |
| --- | --- |
| AeroMexico | Air Canada |
| Alaska Airlines | Breeze Airways |
| British Airways | Condor |
| Copa Airlines | Edelweiss Air |
| Eurowings | Flair Airlines |
| Frontier Airline | Hawaiian Airlines |
| Jet blue airways | KLM Royal Dutch Airlines |
| Korean Air | Sun Country Airlines |
| Swoop | United airlines |
| Virgin Atlantic | Viva Aerobus |
| Volaris | WestJet |
Terminal 1- Deals in Domestic Flights
The main operation which mainly takes place on this terminal is related to domestic flights landing and takeoff. To travel within the country you need to visit and take flight from terminal 1.
You can arrive at Terminal 1, A gate after passing through the A/B security checkpoint.
The terminal 1 A gate has 16 gates ranked from A3, A5, A7, A8, A10 till A12. At gates A14, A15 and A17 to A23 flights which are operated by Allegiant Air and Spirit Airlines.
You can access C gate from the right of Starbucks walking past the pet relief and pharmacy room.
To reach at D and E gate you can use the airport tram station where you can find your way after walking past the C gate, however, you can easily arrive at B and C through A gate.
Terminal 1, departure gate is on the upper level of the terminal esplanade where you can also enjoy food, and shop. Here, you have access to services related to security checkpoints and airport trams.
Southwest and Spirit Airlines in Las Vegas Airport is operated from the B gates, where you can also find shops, bars and restaurants including Starbuck and Hudson news. You can reach B which is on the left of the long corridor after passing through the A/B checkpoint of Terminal 1.
Checkpoints Under Terminal 1
Under Terminal 1 you can get access to these checkpoints where you can complete all your security check in process.
1. Check points A/B– At this checkpoint pre check-in formalities related to domestic flights are conducted. 
Here you can find a TSA officer to help you go through las vegas security wait times.
2. Checkpoint Number C– Board domestic flight passengers , give access to pre-check in service, in order to reduce the security wait times at airport. 
3. Checkpoint Number C/D– Passengers can avail this checkpoint 24 hours, here you can find a TSA officer to help you clear your pre check in service easily. 
Terminal 3 – Deals in International Flights 
Terminal 3 of las vegas airport is a huge terminal covering 60,000 square feet with 14 gates, it caters mostly international flights and some domestic flights.
On this terminal you can access the services related to Ticketing, check-in, and baggage claim. Here you can enjoy shopping from duty free stores and dining lounges.
Arrival of terminal 3 is at lower level, here you can get your security wait time at las vegas airport information at TSA innovation checkpoint.
Terminal 3 departure is on the upper level, after passing through E gate. Here also you can access the services related to ticketing and security checks.
E gate of terminal 3 has 14 gates, from E1 to E12, then E14 and E15. If you are travelling internationally you can board your flight after passing through E gate.
You can connect to D gate, using red line tram, and ride on blue line tram to reach other gates.
Checkpoints Under Terminal 3
At terminal 3 under checkpoint D/E, international flights are operated for international passengers.
At this check point D/E you can easily access your information for some pre check in process.
To inquire more about the international flights, Travellers can seek help anytime at Terminal 3.
A TSA officer is available at Las Vegas Airport checkpoint to help travellers in their security wait time at Las vegas airport.
Last But not Least
Harry Reid international airport (LAS), is one of the busiest airports you need to make your plans prior to ensuring you visit the correct terminal on time.
Make use of airport trams to access the checkpoints, watch out for TSA officers to get your las vegas security times wait line easily.
LSA offers world class facilities to its clients to make their passengers journey hassle free. To kill your time you have many options available at the airport. You can book nearby hotels and resorts to avoid a long journey back to the airport.
Frequently Asked Questions (FAQs)
How long does it take to get through security in Las Vegas?
Anywhere from 2 minutes to 19 minutes, make sure you check the wait time on the official website prior to your visit.
What is the recommended time for Las Vegas airport?
Arrive at the airport at least 2 hours before your flight.
Is Las Vegas a busy airport?
Yes! It is one of the busiest airports in the US. The services offered are top-notch here.
Official name of Las Vegas Airport?
Harry Reid International airport