Austin Airport Security Wait Times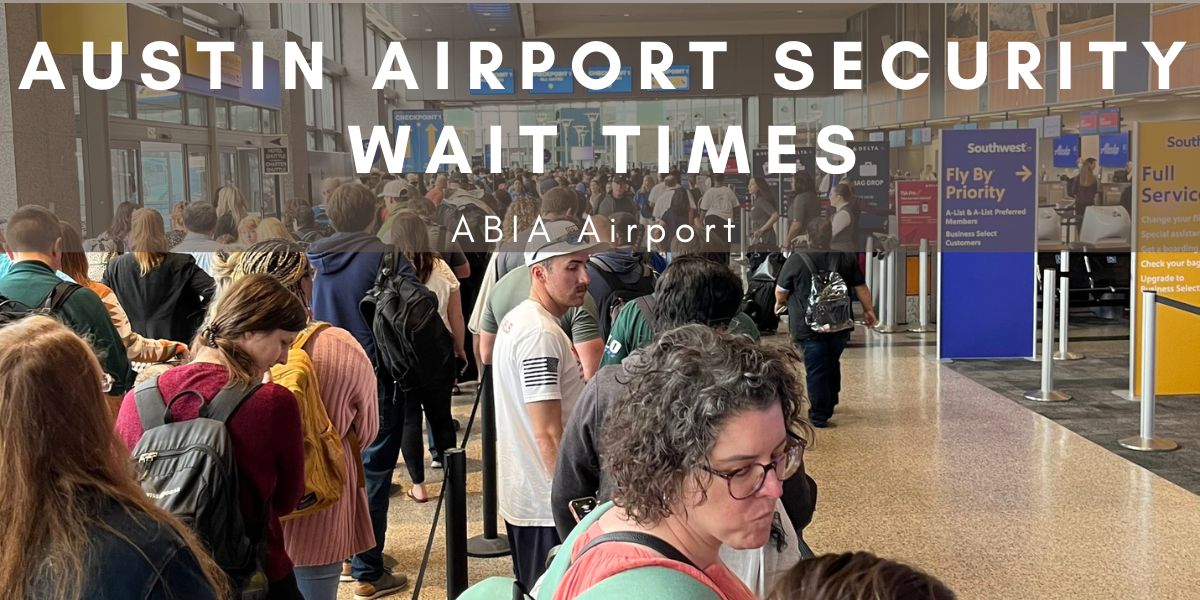 The average wait time at the Austin airport is less than 5 minutes. Austin Airport is an International airport that provides low-cost fare services to its passengers. At the airport, you will get two terminals with checkpoint gates established inside the airport. You will not need long hours at Austin Airport security wait times for your screening process. You can complete your security process at a checkpoint with the help of a TSA officer inside the airport.
Austin-Bergstrom International Airport is a famous airport known for its security screening process. It is a well-organised, modern infrastructure airport popular in the United States. The security checkpoints at the airport are maintained and upgraded by machines and employees work effortlessly at the Airport to provide its travellers with a comfortable and relaxing service. To offer you an effortless travel experience we have shared the details on security wait times at the Austin Airport.
About Austin Bergstrom International Airport (ABIA)
The airport is in operation since 1999, operating more than 300 flights daily with nonstop service to more than 90 destinations in both domestic and international airports. Austin Bergstrom International Airport also known as ABIA is located 8 km southeast of downtown Austin. The airport serves the Greater Austin metropolitan area in Texas, United States. The airport is named Austin Airport after Captain John August Earl Bergstrom. The mission is to provide safe journeys to the world, economic opportunity to our community, and to be the employer of choice and its vision is to serve as the Gateway to the world for all the AUS way daily. There are a total of 34 gates with full custom facilities for the international traveller.
Airport Security Wait Times – (Austin Airport)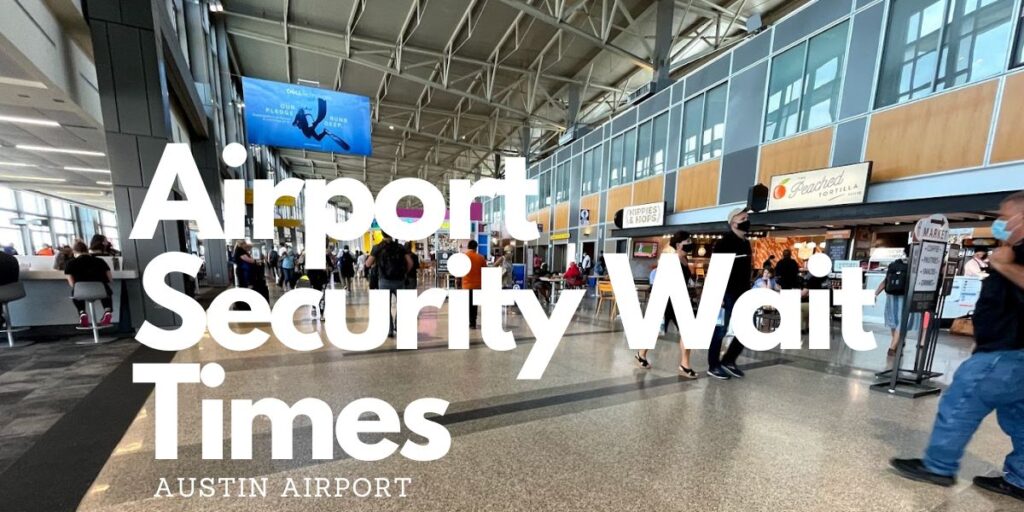 We have provided you with the average Austin security wait times for your reference. However, we ask you to please check the latest Austin Airport security wait times on the official website before your arrival and departure at the airport.
| | |
| --- | --- |
| Austin Airport Working Hours | Waiting time / Minutes |
| 04:00 AM to 05:00 AM | 00:00 Minutes |
| 05:00 AM to 06:00 AM | 31:00 Minutes |
| 06:00 AM to 07:00 AM | 26:00 Minutes |
| 07:00 AM to 08:00 AM | 06:00 Minutes |
| 08:00 AM to 09:00 AM | 06:00 Minutes |
| 09:00 AM to 10:00 AM | 11:00 Minutes |
| 10:00 AM to 11:00 AM | 20:00 Minutes |
| 11:00 AM to 12:00 PM | 17:00 Minutes |
| 12:00 PM to 01:00 PM | 09:00 Minutes |
| 01:00 PM to 02:00 PM | 00:00 Minutes |
| 02:00 PM to 03:00 PM | 34:00 Minutes |
| 03:00 PM to 04:00 PM | 21:00 Minutes |
| 04:00 PM to 05:00 PM | 09:00 Minutes |
| 05:00 PM to 06:00 PM | 23:00 Minutes |
| 06:00 PM to 07:00 PM | 17:00 Minutes |
| 07:00 PM to 08:00 PM | 02:00 Minutes |
| 08:00 PM to 09:00 PM | 01:00 Minutes |
| 09:00 PM to 10:00 PM | 00:00 Minutes |
| 10:00 PM to 11:00 PM | 00:00 Minutes |
| 11:00 PM to 12:00 AM | 00:00 Minutes |
Observations:
The table reveals that 0 minutes repeatedly occur during working hours, indicating that the airport is not experiencing heavy traffic.
During the afternoon hours, from 2:00 PM to 3:00 PM, passengers can wait for a maximum of 34 minutes before their turn.
The minimum waiting time at the airport is approximately 1 minute, which demonstrates the airport's strict security measures.
Terminals At AUS Airport
The Austin Bergstrom security wait times are operated on Terminal 1 and Terminal 2. The airport is divided into two terminals only which you can easily locate and use for smooth security screening.
1. Terminal 1– Barbara Jorden Terminal- it is one of the largest terminals of Austin Airport used for the arrival and departure of several flights across the world. The terminal is divided into two levels. The Lower level of the airport is used for baggage claim and the upper level is used for departure and Ticket. Austin Bergstrom security wait times are available at Terminal 1-Barabara Jorden Terminal.
2. Terminal 2– South Terminal- The terminal mainly deals in domestic flight operations mainly by two different airlines such as Frontier Airlines and Allegiant Airlines. This is smaller than Terminal 1 and works only in domestic operations.
AUS Airport Security Checkpoints – Location and Hours
Looking for information on Austin security wait times? AUS has two checkpoints available for passengers, both offering PreCheck options that can be handled with smart devices. Please note that the hours of operation for these checkpoints may be subject to change.
(i) AUS Checkpoint 1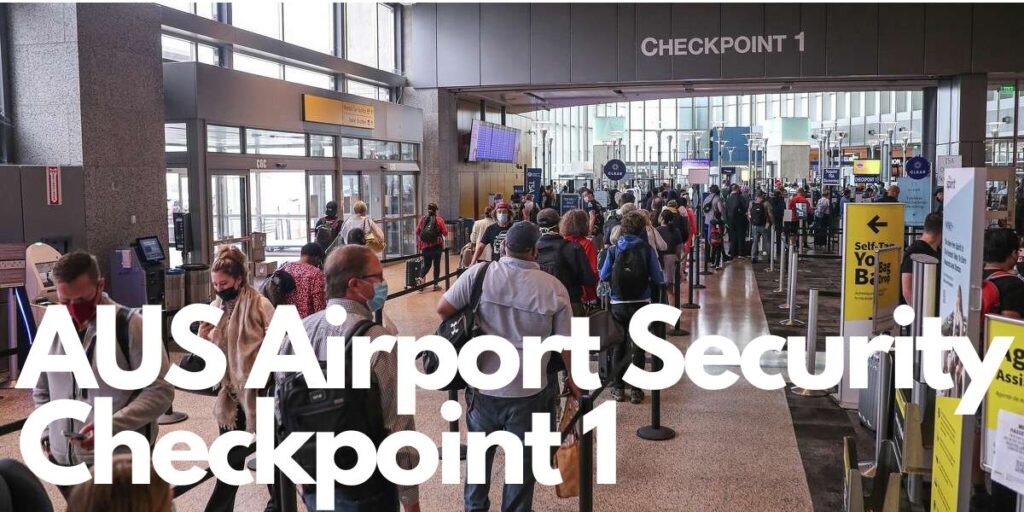 Type: All passengers and TSA Pre
TSA Pre Hours: Daily, Operating hours- 3:30 AM
(ii) AUS Checkpoint 2
Type: All passengers and TSA Pre
TSA Pre Hours: Daily, Operating hours- 3:30 AM
Note:- Please note that it is recommended to arrive at the airport at least 2 to 3 hours before your scheduled airline departure. It's important to allow yourself enough time, including for parking if needed, to ensure a stress-free travel experience.
TSA Wait Times AUS
Security wait times at Austin-Bergstrom International Airport can vary depending on holidays, busy periods, or travel days. To stay up-to-date with the latest Austin airport wait times, you can check the airport's website. It's important to note that the wait times you see online may not be accurate by the time you arrive at the airport.
TSA PreCheck at AUS
TSA PreCheck lanes are available at both Austin security wait times and checkpoints. If you prefer to avoid waiting in long lines, you can register for AUS's PreCheck program at Austin-Bergstrom airport. Once you're registered and approved, you'll receive a Known Traveler Number that grants you access to an expedited screening lane. With PreCheck, you won't have to take off your shoes or belts or take laptops out of their cases. This reduces the Austin Security wait timeline to less than 5 minutes. The cost of TSA PreCheck for five years is $85. PreCheck is available at Austin-Bergstrom Airport starting at 3:30 a.m.
CLEAR Service to expedite your Security Screening
AUS has partnered with Clear to enhance the travel experience for passengers in their terminals. Clear utilizes biometric authentication by monitoring eyes and fingertips to expedite security checkpoints at the airport. This eliminates the need for TSA agents to inspect documents, saves time, and adds convenience. You will be immediately directed to the Precheck line if you are enrolled in both Clear and TSA Precheck. The process is fast and efficient, providing a stress-free travel experience.
Global Entry Program
The Global Entry Program Centre is near the Barbara Jordan terminal, where you can visit or enrol to schedule an interview for international travel-related queries. It operates from Monday to Friday, from 8:00 AM to 12:00 PM and sometimes until 5:00 PM. This program is exclusively used for international travel purposes. Austin International Airport provides terminals and checkpoint facilities to minimize security waiting times for passengers before their flight departs. You can complete all formalities in one place at the airport to fly to your favourite destination. Additionally, you can enrol in the program launched by the Austin Airport as there is no heavy rush there.
Helpful Tips Before Security Screening
There are several things that passengers can do before passing through the airport security checkpoints and dealing with possible wait times in Austin. To make the most of your time, we've compiled a list of helpful suggestions.
During your waiting period, consider taking advantage of the various amenities available. You can explore the airport and find weekend getaways from Austin during your free time. You can also grab a hot cup of coffee from one of the airport's cafes and stroll around without any rush.
Suppose you have important meetings or errands to attend outside of the airport. In that case, you can book a taxi to visit other popular destinations, such as Round Rock, roughly 30-32 kilometres from Austin. There are plenty of activities to enjoy there, including sightseeing and entertainment.
These are just some of the many possibilities for passengers to pass the time before checking in at the different checkpoints that TSA Officers oversee. So, make the most of your time and enjoy your journey!
Helpful Tips After your Security Screening
Easily navigate to your gate and explore various restaurant and shopping options with the help of the official interactive terminal map.
To save on parking costs, consider using off-airport parking lots. Although they are slightly farther from the terminals, these lots offer lower prices. You can reserve your spot in an off-airport parking lot.
Take advantage of the airport's free Wi-Fi to catch up on emails or browse the internet before your flight.
In case you lose something while in the terminal area, you can find the contact information for lost and found services to report and retrieve your lost items.
To ensure a convenient and quick journey to your destination upon arrival, contact one of the taxi or limo service providers available.
Frequently Asked Question (FAQs)
How long does Austin airport security take?
The average security wait time at Austin Airport is between 1 to 3 minutes. It is recommended to check the timing on the official website. 
How early should I get to the Austin airport?
It is recommended to arrive at least 2 hours before your domestic flight and 3 hours before your international flight. 
How many terminals are there at Austin Airport?
Total 2 terminals, terminal 1 and terminal 2.